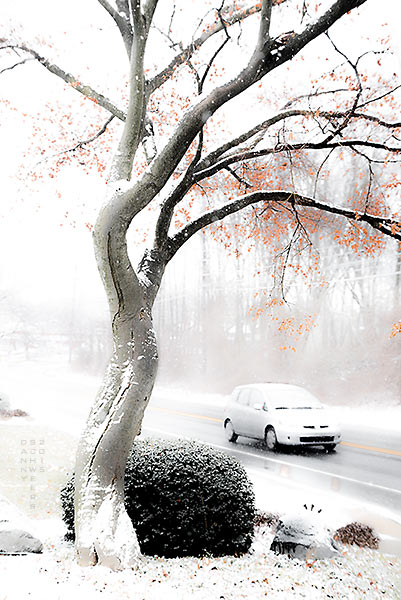 A useless but lyrical tree
stands near the functional
storefronts, sidewalks and streets.
Someone shaped it —
the hired landscaper, perhaps,
or the wind and storm,
or shall we simply say you, Lord,
who shape us all,
we who would be useful,
we who serve to be ourselves served,
we the proudly practical.
Harmonize our parts, Lord.
Remove the redundant.
Give us grace.

Photo of a tree in snowfall, Silverside Road near Marsh Road, New Castle County, Delaware.
Photo and prayer 2015 by Danny N. Schweers
You can subscribe to these as they are created, and comment.
Some Comments from Subscribers:
Denis, a woodworker and friend, wrote jokingly:
Useless? I don't know ... I see a winding staircase.
Kathee wrote:
Very thought provoking. I notice the cracks from torque stress… many days my spirit feels like this tree.
The Rev. Doug Gerdts, Head Pastor at First & Central Presbyterian Church in Wilmington, Delaware, included my prayer pic in his weekly email to his congregation. Click here to see Doug's entire email. He wrote:
Danny's "Photo Prayer" this week struck me in two ways: One, as much as the cold and snow and ice can be frustrating and wear us down by the time spring rolls around, I love the seasons and the changes they bring. Having lived in a climate without such pronounced seasonal shifts, living on the East Coast provides a sense of rhythm to life -- both ours and the environment. Danny reminds us that there is beauty all around us (and in us!) -- even in a "useless" tree.
Secondly, his last three lines: "Harmonize our parts, Lord. Remove the redundant. Give us grace." Perhaps the perfect prayer. Meaning on multiple levels. What would it feel like if we, our own selves, were in harmony -- with...? Or our community...in harmony. Or our planet...in harmony.

Anne wrote:
Keep on doing this, please. I look forward to receiving the Photo Prayer each week!
Carl wrote:
This is your first to me. Many thanks.
Alex wrote:
Since your tree is a lyrical tree, let me reply in kind ...
"What is a Tree to Me?"
Is a tree a mere
trunk, branches, and leaves?
Do I appreciate the shade
a tree provides for me?
Does a tree have
a true personality?
Do I see a tree
for its individuality?
Is this simple tree
a symbol of pure beauty?
Or do I see a tree
as a reflection
of my humanity?
But then I sigh and think
that a tree is just a tree
and I just think too freely.
About my recent association with the Washington Printmakers Gallery, Craig wrote:
Printmakers? How quaint. I find myself wondering more and more what interest if any there might be in anything that isn't pixels. And if there's no interest in it, of what value is it? Depends on your definition of value. The display area of choice in modern times is the computer/phone/tablet screen. Not a wall. I can see the point. Over the last few years I've invested considerable money to create canvases to hang on our home walls. After several months these need to come down. And then where? Sad to see them piling up in the garage... With the flip of a keyboard key I can view unlimited numbers of beautiful rich images. Cheap. Doesn't seem fair. What a long strange trip it's been….