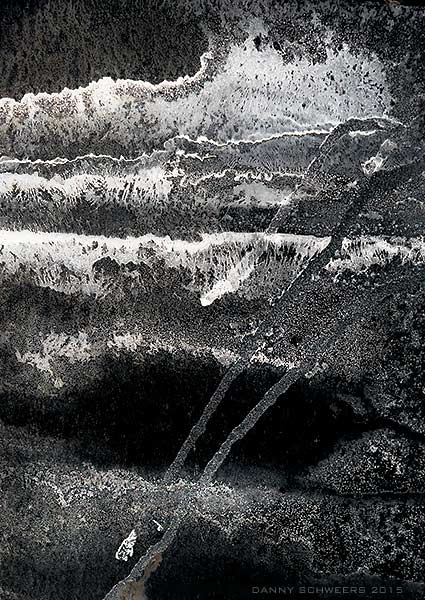 Memories of my murdered friends return.
I remember, too, the suicides,
and those dead in accidents and at birth,
and my best friend, George,
who died of leukemia,
when we were just seven.
He died and I did not,
not yet, no, not yet.
Oh, to plan for the decades to come
and yet be satisfied with today.
Oh, to trust completely in God,
in whose care we are.

Photo of salt spray on a parked car in winter, Branmar Plaza, New Castle County, Delaware.
Photo and prayer 2015 by Danny N. Schweers
You can subscribe to these as they are created, and comment.
Some Comments from Subscribers and the Author's Response:
Mary M. wrote:
Exquisite photo & prayer plus excellent timing, Danny. My dearest friend died of leukemia at age 72 on Feb. 10. She had many more years than little George but I am left wondering why her & not me since I was diagnosed with cancer months before her diagnosis in late November. I am feeling healthy & plan to live a long time yet her death makes me grateful for each day in a whole new way. Gracias & Pax tecum.
Lloyd wrote:
You have set me thinking about so many things:
-The untimely death of my twin brother
-An autobile accident in which the car I was traveling was totalled, yet I just opened the door and walked out
-The slow, yet very swift passage of time
-Now is all we have
-"I shall not, I shall not be moved.....
Just like a tree planted by the water,
I shall not be moved."
Every once in a while I look at an early photo of my brother and I, about 5 years old, and say "Hey Bro, we made it!"
Thanks for the memories, Danny.
The Author Responds:
Recently, I stood up at a photography lecture given by world-traveler John Paul Caponigro and said, "I am not ready to say that good photographs can be found anywhere, but I do believe we never know where or when a good photograph can be found. If there's no predicting where great images can be found, why travel?"
I liked that John Paul said that travel keeps his eyes fresh. I try and sometimes succeed in keeping my eyes fresh even in my home territory. In this case, I took ten minutes out of a busy day of errands to wander a parking lot and photograph cars with salt spray on their sides. At one car, suddenly the window came down and the driver, sitting in the car said, "Can I help you?" — a polite way of saying "What the !$&@¢* are you doing?" He was amused that I thought his car was an art object.
Click here to see John Paul Caponigro's imaginative ecological landscapes