Photo of stuffed animals ready to go to Goodwill.
Photo and prayer 2015 by Danny N. Schweers
You can subscribe to these as they are created, and comment.
Comments from readers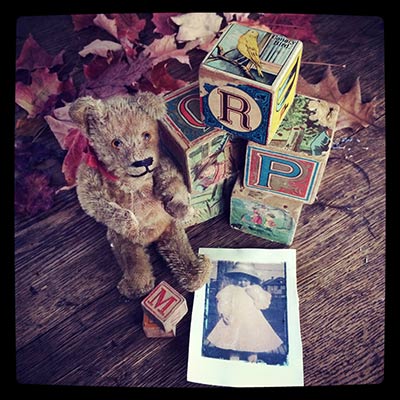 Ellen wrote:
The chicken incident was one that occurred in my husband's family, too. Oscar, the pet chicken, ended up as dinner one night. I guess that's why my husband does not care much for a chicken dinner. It's so nice to think of all the children who will enjoy their teddy bears.
Pat wrote:
How very poignant, made more so because of circumstances in my own life!
Lucia wrote:
Sweet and gentle love for these teddies. Very lovely.
Nancy wrote:
Reality and the truth often hurt. Very well done, once again, Danny.
Peggy Hartzell wrote:
Thanks for the sweet teddy prayer. Just took a photo yesterday of my mother's worn blocks and her teddy bear. [See above.] She was born in 1908 and lived to be 94. When she had dementia and I was caring for her here at home, I sometimes tucked her in with a couple soft stuffed animals because they seemed to fill some spots with softness against the brittle bones and thinner skin. The bear and blocks are over 100 years old. I did a series of photo collages about my mother and approaching the end of life with ancestors appearing here and there. [See below.] It was a little like an old paper doll/ play book. Here a couple of the photos. She's 94 looking aback at here self at four. When I first started to take care of her I put "wings" on her so she wouldn't fall over:) Too bad we don't just sprout a pair when we reach 90. Click here to visit Peggy Hartzell's website of alternative photography, Holga images, and Polaroid Transfers.