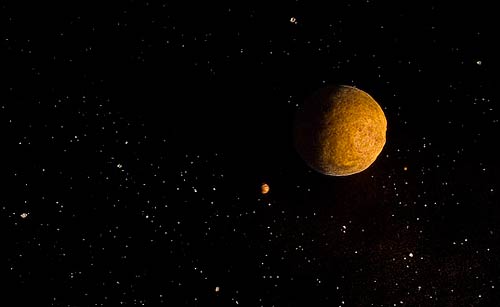 Our Lord is a great God, Who says:
"I am the Alpha and the Omega;"
God is the first and the last, the beginning and the end.
Holy, holy, holy is the Creator of heaven and earth.
The whole universe is full of God's glory.
Photo of a mock orange, a coriander seed, sea salt and table salt on a black background. It looks like outer space, but is something else. Our everyday lives may look ordinary enough, but...
Photo copyright 2007 by Danny N. Schweers.
Comments from readers.
Leona wrote:
Love the creativity. It worked very well. Worth keeping and recycling. Many thanks. Good job!
Terri wrote:
Bravo, Danny! No more needs to be said except that your "universe" is very clever...and convincing.
Ellen wrote:
You are too much! It's just wonderful!
Holly wrote:
Very cool.
Bill wrote:
Well, you fooled at least one person who thought it was a photo of the recent lunar eclipse!
Kerry wrote:
Hahaha! Great!
Lloyd wrote:
Spectacular. It reminds me of the beautiful lunar eclipse we witnessed a few nights ago.
Pat wrote:
I simply love this!
Shari wrote:
Hosannah in the highest
Nicole wrote:
Love it!
This Photo Prayer was featured in the October 1, 2015 newsletter of Westminster Presbyterian Church in Wilmington, Delaware.
The author would love to see your comment. (Click here.)